InterActive SyslogViewer is a realtime syslog viewer tool for Windows.
The InterActive SyslogViewer is derived from the WinSyslog InterActive SyslogServer, and separately available now. It's purpose is to display Syslog messages in real-time for direct analysis.
Displays Syslog messages in Realtime on a configurable port in a datagrid view.
IPv6 Support! Will automatically listen all free TCP IPv4 and IPv6 addresses.
Resolves Source, Realsource and Syslog header (RFC 3164)
Option to export or copy the received Syslog messages.
Can be run multiple times and hidden in the background (reachable over the icon tray).
Available in multiple languages.
Can display Syslog messages from a valid

ODBC

datasource.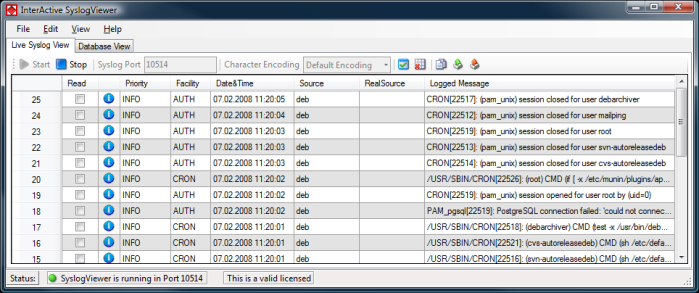 Adiscon's InterActive SyslogViewer is part of Adiscon's MonitorWare solution.
The free license of InterActive SyslogViewer is included if you purchase WinSyslog or MonitorWare Agent.
Download links and more