With every purchase of WinSyslog or MonitorWare Agent, we also provide a complimentary license key for InterActive SyslogViewer. This is a small tool that allows for two things:
1. Live view of syslog logstream
2. Review of log database
In this guide, we will concentrate on the setup process for reviewing logs that are stored in an ODBC database. As InterActive SyslogViewer is automatically installed with WinSyslog and MonitorWare Agent by default, we will assume that everything is available already including the database filled with log messages and the corresponding SystemDSN set up accordingly.
To get this working, start the InterActive SyslogViewer and switch to the tab named "Database View". Here you need to fill the fields for "System DSN", "User" and "Password". This is the minimum setup required to get this working.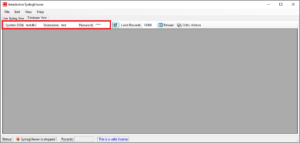 You can also increase or decrease the number of log messages that shall be pulled from the database. But note that increasing the number will slow down the polling dramatically as well.
So, after adding the DSN and credentials, you can click on "Refresh". This will contact the database and request the last n (limit records) log messages that are stored there and populate the list. Here you can then review the list or apply filters to it. You can even highlight specific lines that contain a key string you specify for easier review.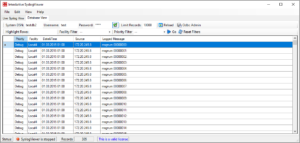 This basically sums it up. It's not many steps and easily to accomplish when having a database storage for log messages already. And since WinSyslog and MonitorWare Agent already come with the InterActive SyslogViewer this is an quick and easy addition to review log messages stored in a database.
Review log database with InterActive SyslogViewer