This page is in German as it only has local focus. Sorry for that. If you live nearby and have Interest in the job offering, simply contact us via email for details.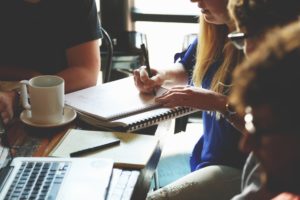 Interessiert, einen spannenden IT-Job in einem kleinen Team zu lernen? Und dabei doch an einem bekannten Projekt in einer internationalen Umgebung zu arbeiten? Dann ist das hier genau das Richtige für Dich!
Unsere Produkte werden weltweit verwendet, meist bei Großunternehmen. Unsere Open Source Projekte sind nicht nur wirklich überall im Einsatz sondern haben auch eine weltweite Community. Vielseitigkeit ist garantiert. Arbeitssprache ist Englisch. Im Büro wird aber (meist) Deutsch gesprochen. Das hat übrigens auch Vorteile wenn Du gut Englisch und nicht ganz so gut Deutsch sprichst: Du wirst Dich bei uns trotzdem wohlfühlen!
Wir bieten eine Ausbildung zu IT-System-Kaufmann/-frau an. Anders als bei Großunternehmen kannst Du bei uns direkt was bewegen und wirst von Anfang an in echte Projekte eingebunden. Die Aufgaben sind vielseitig: verstehen, was Kunden möchten. Überlegen, wie man das hinbekommt. Rechnen, was das wohl kosten mag. Neues bauen. Bei Problemen helfen. Mit Windows und Linux arbeiten. Web Seiten pflegen. Kleine (und bei Interesse auch größere) Programme schreiben. Schwerpunkte können wir nach persönlichem Interesse setzen.
Ausbilder ist unter anderem Logging-Spezialist Rainer Gerhards, der für sein rsyslog-Projekt bekannt ist. Die Adiscon ist in Großrinderfeld und gut mit dem Bus zu erreichen. Die Berufsschule ist in Würzburg (alternativ Heilbronn). Ein Auto brauchst Du also nicht unbedingt.
Was wir von Dir erwarten? Auf jeden Fall Interesse an IT.  Gutes Englisch ist Pflicht – zumindest solltest Du keine Angst haben, nicht ganz so gutes Englisch zu benutzen und zu verbessern. Ansonsten das, was sich wohl jedes Team von einem Azubi wünscht: Teamfähigkeit, Lernbereitschaft, Engagement für die Sache. Da der Job nicht ganz ohne ist, brauchst du mindestens mittlere Reife, wobei wir natürlich auch Abitur gerne sehen.
Und da man sich, und auch einen Beruf, Live am besten kennen lernt, bieten wir die Möglichkeit zum Praktikum. Meist eine Woche, oft in den Schulferien. Danach kann man gut sagen, ob's "passt".
Übrigens: wer Interesse an IT hat, schickt auch keine toten Bäume mehr auf Reisen. Daher Bewerbungen bitte ausschließlich per email an ugerhards@adiscon.com!
Genug der Worte. Die ganzen drögen Details kann man auch bei der Agentur für Arbeit noch einmal nachlesen.
Wir freuen uns darauf, von Dir zu hören!
Bieten Ausbildung zu IT-System-Kaufmann/-frau